Monthly Administrative Updates
May 2023 Administrative Update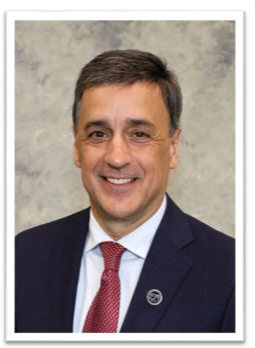 by: Brian D. Russ
Superintendent
It's been an exciting, productive year, and as I reflect on the past nine months, I do so with a sense of gratitude and appreciation.
We are making strong progress in the classroom as we continue to navigate academic challenges as a result of COVID-19. I am so grateful for the creativity, compassion, and perseverance of our students and staff. Their strength and courage have allowed them to take on these challenges with positive energy to overcome the gaps that we have been experiencing.
We are also focused on offering new opportunities to enhance our students' learning experience. Blue Devil Design started in the fall of 2022 and is off to a great start. Students have the opportunity to experience all aspects of the manufacturing process, including business administration, sales, marketing, and technology design. This is an authentic career-building experience that will offer ownership and leadership experience in a collaborative work environment. Additionally, a group of our students had the opportunity to participate in the NASA rocketry competition. The process began with a 60-page application and consultation with NASA engineers, resulting in participation in a competitive rocket launch in Huntsville, Alabama. We are very proud of the hard work and dedication it took our students to get there and the excellent results of the final rocket launch. We are excited to offer a new elective, Sustainable Agriculture, in the fall of 2023. This course is being offered in response to student interest and will focus on regenerative farming practices.
Extracurricular and athletic participation are at an all-time high. From Parkdale to the high school, our students are enjoying participating in clubs, musical, singing, and instrumental performances, and numerous athletic opportunities. Performances on stage and field have been quite impressive and are the result of our students' hard work and dedication.
We also continue to make the social and emotional well-being of our students, staff, and community a central focus. It is our mission to create the most welcoming environment possible and a culture of compassion and support. With this in mind, we will continue our work in the areas of social-emotional learning (SEL), restorative practices, and diversity, equity, and inclusion (DEI).
Social-Emotional Learning (SEL) The social, emotional, and mental wellness of our students remained at the forefront of our planning as we moved through the school year. I am very excited to announce that we will have the support of a SEL expert to help us continue to develop and expand our program. We will continue with training this summer, and the program will be delivered in the classroom and through related activities.
Restorative practice is a powerful approach to discipline that focuses on empowering students and repairing harm through inclusive processes that engage all stakeholders. We made significant progress this school year and will continue to train additional staff members this summer.
The New York State Board of Regents launched an initiative to advance diversity, equity, and inclusion in schools across the state. We continue to focus on providing an experience for our students that provides equal access and opportunities by creating a caring environment that is built upon trust and respect. All students must feel that they are welcome, that they belong, and that they are supported in every school. We are working with a consultant from Erie 1 BOCES. Additionally, we will continue with professional development for staff for the coming school year.
I continue to work with my student advisory group, which advises me on how to improve the school's climate and culture. I appreciate their insight and find their input to be invaluable as I work with our teachers and administrators to create an environment that supports all members of our school community.
I am very proud of how we have responded to the challenges of the past three years and what we have accomplished along the way. These successes are the result of our collective efforts. I am deeply grateful to have the opportunity to lead the district and for the support we receive from our parents and community. This would not be possible without your continued commitment and support.