Monthly Administrative Updates
October 2022 Administrative Update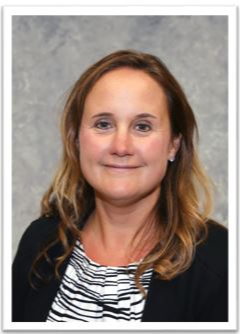 by: Jessica Lyons
Director of Curriculum & Instructiion
The Office of Curriculum and Instruction at East Aurora Schools had a busy summer and are off to a fantastic start for the 2022-23 school year. One of the main responsibilities of our office is to oversee the curriculums taught at all grade levels and to provide professional development to our faculty, staff and even parents! This past year was a curriculum review year for the English Language Arts, World Languages, and Business/CDOS departments. A few highlights from these reviews include new textbooks for all of our Spanish classes, expanding classroom libraries at Parkdale, continued professional development in Writer's Workshop for K-4 teachers, new novels for the Middle and High School that are more diverse and relevant to students lives, new textbooks for HS English classes, exploration of coding software programs for computer classes at the Middle School and Parkdale and the successful implementation of a new EAHS course offering, Blue Devil Design. The full reports from these departments to the Board of Education can be found on the Curriculum and Instruction webpage.
Also new this year for students in grades K-8 is the "Character Strong" program. The Character Strong curriculum is grounded in research and focused on fostering the Whole Child with vertically-aligned lessons that teach Social-Emotional Learning (SEL) and character, side-by-side. SEL competencies that Character Strong focuses on are self-awareness, self-management, social awareness, relationship skills, and responsible decision-making. Character education involves developing thoughtful, healthy, and kind human beings. We chose this program for a variety of reasons, one being that it aligns with New York State Social-Emotional Learning Benchmarks and the Mental Health Education Literacy in Schools NYSED guide. A full presentation on implementation of Character Strong at Parkdale and EAMS was given in August and recordings of those presentations can be found on the Curriculum and Instruction webpage.
East Aurora Schools Family Support Center (FSC), in conjunction with the Office of Curriculum and Instruction, is excited to announce our Parent Support Speaker Series for the 2022-23 school year! The FSC, managed by School Psychologist James Coleman, partners with local organizations to provide students and families with resources related to mental health, food security, support groups, and medical needs. Please reach out if you would like to discuss ways the FSC might be better equipped to support your family/child (ren) @ jcoleman@eak12.org or via phone @ (716) 687-2317.
Last spring, the District conducted a survey soliciting feedback from parents on what sessions they may find helpful as part of our Parent Support Speaker Series. The results were used to develop our program for this year. Throughout the year we will be hosting six sessions (October, November, January, February, March, April) all beginning at 7pm. They will be in-person as well as live-streamed and the location will vary dependent on content. Unfortunately, the events will not be recorded. For more information on the entire series visit the District Facebook page or our office's webpage. These events are for adults only.
The first Parent Support Speaker Series, presented by Horizon Health, is titled "Mental Well Being and Stress Management" (for your child) and will cover the following:
· Learn the signs, symptoms and treatment of anxiety and depression
· How to have conversations with children or loved ones
· Teleservices, and ways to provide additional support
· Hear a brief overview of wellness activities and suggestions on how to work through stressors along with several levels of treatment options and resources available (all confidential)
Finally, as I focus on the year ahead for our faculty and staff, we have plans to continue to build capacity and awareness around NYSED's Culturally Responsive-Sustaining Education Framework by receiving professional development around restorative practices, creating an equitable and inclusive classroom and experience for our students, cooperative learning structures in the classroom and best practices in co-teaching models.