Monthly Administrative Updates
December 2021 Administrative Update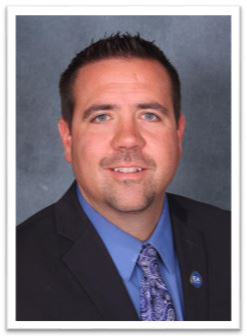 by: Matthew Brown
Middle School Principal
The 2021 school year began like no other. Our faculty, staff and especially our students demonstrated great excitement to be back in school full-time, five days per week. Just think, the last time our seventh grade students had a 'normal' full year in school was when they were in fourth grade at Parkdale Elementary. Knowing this, the faculty and staff at EAMS have focused on 'getting back to basics' to help our students acclimate a return to the full school experience with their peers.
To begin the school year, we invited a motivational guest speaker, Brad Hurtig (learn about his story at bradhurtig.com). Brad delivered a powerful message based on the theme 'Find A Way'. In essence, no matter what obstacles life hands you, you can find a way if you want it badly enough. We continued to reinforce Brad's message by challenging students and staff to 'Find A Way' through a variety of activities that encourage students to create connections at school. The first challenge was for students to meet a new peer and write a fact they learned about that person. We found this helped students to get to know each other better and encouraged them to reach out to someone they previously did not know. We have future challenges planned that will carry us into the winter months.
Overall, student spirit is high. This year, we have noticed a significant increase in the number of students participating in clubs and intramurals (approximately 350 students have joined a club or play intramurals on a regular basis). Additionally, approximately 200 students attended our first outdoor dance in October. This is noteworthy as it demonstrates the middle school students missed peer interaction throughout the pandemic.
In addition to increased participation numbers and excitement in school, we also noticed a decrease in student social maturity in comparison to previous years. To support our students, we created multiple opportunities to provide experiences to help students relearn and practice more appropriate social skills. Examples of these initiatives include Class Meetings, Mindful Moment, Do The Right Thing, Mentoring Programs, and a new initiative SWISS (Students Working to Improve School Setting).
Assistant Principal Librock and I held class meetings with all four middle school grade levels. These gatherings allowed us to meet with the entire student body where we focused and encouraged students to reflect on leadership skills and opportunities and how to be strong role models/representatives of the East Aurora Middle School while out in the community.
Mindful Moment was introduced by our school social worker, Maggie Finnegan. Read during the morning announcements, Mindful Moment offers opportunities for students and adults to focus and center their attention on one thing at the moment. Mindfulness can help students focus, improve their immune system, and help them sleep better.
Do The Right Thing is a program we've reintroduced to celebrate students observed making good choices. These students are then recognized at a breakfast celebration in their honor.
Another amazing program we are happy to bring back to EAMS is our Mentoring Program, providing an opportunity for faculty/staff members to connect with students while participating in fun activities such as ice cream socials, game days, picnics, etc. The faculty/staff members who participate go above and beyond to work with students and provide them with the social support they need.
Finally, we are introducing a new group, SWISS (Students Working to Improve School Setting). This group will comprise a handful of students at each grade level, meeting with building administrators and faculty and focusing on team building activities designed to positively impact the school community.
As you can see, the East Aurora Middle School has had a very busy start to the school year. We are excited to be back in the building on a daily basis. Our hope is that by going 'back to basics', we will quickly settle into our 'new normal' and continue to be the awesome middle school that we have always been. As always, we are thankful for and appreciate all of our supportive parents and the greater East Aurora community.