Monthly Administrative Updates
May 2022 Administrative Update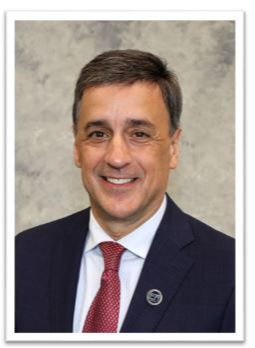 by: Brian D. Russ
Superintendent of Schools
New Initiatives Introduced to Support Students and Help Build Relationships
As I reflect on the past nine months, I do so with a sense of gratitude and appreciation for the effort put forth by our students, faculty, staff, administrators and Board of Education. Together, we have overcome many obstacles and are on a hopeful path to recovery. This would not have been possible without those parents and community members who have continued to support the District during these most challenging times.
While we faced a number of challenges, we responded swiftly and added new programs to support the needs of our students, families and staff. We re-established the Family Support Center and are in the process of setting up partnerships with community support organizations. We are excited to offer this service to district families when we return this fall. We hired a Social Worker for Parkdale Elementary and a Behavior Support Specialist who provides assistance in grades Pre-K-12. Both of these positions will play vital roles in the development of our SEL program.
We came to an agreement with the Town and Village in regard to the School Resource Officer position. The SRO provides valuable support in the area of school safety and acts as a liaison between the District and EAPD. I am very grateful for their efforts in making this happen. Officer Cartwright joined us in February and is off to a great start.
Building positive relationships is at the heart of the success of the school district. We started four new initiatives to provide support to our students and open the lines of communication, ultimately leading to stronger ties between our students and staff.
Social Emotional Learning (SEL) The social, emotional and mental wellness of our students remained at the forefront of our planning as we moved through the school year. We began in the summer of 2021 with a BOCES trainer who worked with our administrators, teachers, counselors, social workers and psychologists. Together with representatives from our District Curriculum Instructional Council (DCIC), they reviewed five programs and selected the Character Strong K-12 curriculum. Training will continue over the summer and the program will be delivered in the classroom and through related activities. We are also planning to conduct a school climate survey that will be administered in the fall to students, staff and parents.
Restorative Practice Restorative practice is a powerful approach to discipline that focuses on empowering students and repairing harm through inclusive processes that engage all stakeholders. Two leadership trainings were held this spring to be followed by an implementation team training this summer which will include administrators, counseling/social workers/psychologists, staff and teachers. Additionally, we are planning to host a keynote speaker this September focusing on the value of Restorative Practice and why it works for the entire school community.
Diversity, Equity and Inclusion (DEI)The New York State Board of Regents launched an initiative to advance diversity, equity and inclusion in schools across New York State. We continue to focus on providing an experience for our students that promotes equal access and opportunities by creating a caring environment that is built upon trust and respect. All students must feel that they are welcome, they belong, and they are supported in every school. We are working with a consultant from Erie 1 BOCES, who will begin by presenting the DEI framework to the District Curriculum Instruction Council. Those members will then turnkey with their teams. From there, we will be providing professional development for staff for the coming school year.
Superintendent Student Advisory (SSA) With the assistance of Mr. Brown and Mr. Roberts, I created the Superintendent Student Advisory. The purpose is to better engage our student body in the development of the District's Vision with the goal of improving all aspects of their schooling experience. The students have provided so much valuable feedback thus far. Our first project is to review the food service program and offer suggestions for improvement.
Additional programming introductions that will also enhance student engagement include:
Universal Pre-K (UPK) We formed a collaboration with East Aurora Community Nursery (EACN) to open three UPK classrooms, two at EACN and one at Parkdale. The first year of the program was a great success and I am pleased to announce that we will be expanding the program for the 2022-23 school year. We look forward to working with our community partners to offer Pre-K services to 72 four-year-old students throughout the community.
Unified Sports We expanded our athletic offerings to include Unified Basketball. Unified Sports joins people with and without intellectual disabilities on the same team. It was inspired by a simple principle: training together and playing together is a quick path to friendship and understanding. The season began in March and runs through the beginning of May. Please stop to watch a game, you won't be disappointed!
Blue Devil Manufacturing This is a new offering for fall 2022. This experience will allow students to fill specialized roles in the areas of Business Administration, Sales, Marketing, Technology Design and Manufacturing. This is an authentic career-building experience that will offer ownership, leadership and a collaborative work environment.
I am very proud of what we have accomplished and while the District always welcomes input from our parents and community, we have witnessed a great deal of misinformation sharing through social media, local news sources and at Board meetings. I apologize for any confusion this has caused and ask you to contact District @ 687-2302 if you have any questions/concerns or need clarification.
Thank you again for your support. The Annual Budget Vote and Board Member Election will be held on Tuesday, May 17th, in the Middle School Cafeteria.