Monthly Administrative Updates
January 2022 Administrative Update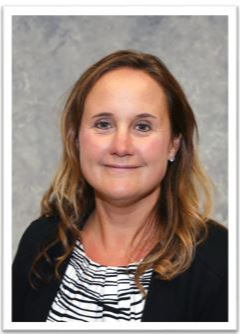 by: Jessica Lyons
Director of Curriculum & Instruction
A New Year brings new beginnings and a fresh look into the future
As we enter the new year, I look ahead to 2022 and the responsibilities of my new role as the Director of Curriculum and Instruction. I began my career as a High School teacher in East Aurora in 2004, and most recently was the Principal at Parkdale for the past 4 years. In my new role, I will provide the vision and leadership in the ongoing planning, implementation, development, review and evaluation of the district's curriculum and instructional services in Pre-K through 12th grade.
One of my main priorities is the focus on student and staff mental health and wellness for the 2021-2022 school year and beyond. The pandemic has changed how we perceive mental health and the need to focus and improve on it is critical to the success of a school environment. In November, our health and wellness committee held its first meeting with internal faculty and staff members. During this meeting we discussed what the district has done thus far to promote mental, physical and emotional health and wellness and what our plans are for the future. We also looked at our Health curriculum at the Middle and High School and focused on how we want to expand in this area. Currently, our district is reviewing and adopting a School Climate survey that will allow us to collect data to measure our school climate. Measuring school climate is critical for improving the environment because high quality school climate data allows us to understand the perceptions of students, staff and parents in our district, monitor progress, make date-driven decisions and adapt to the shifting needs related to school climate. In conjunction with the surveys, we will also be evaluating various Social and Emotional Learning (SEL) Curriculums to incorporate into our classrooms Pre-K-12.
During the December Board of Education meeting, the ELA and Math Assessment results from the 2021 spring assessments were analyzed. During the presentation, it was noted that our 3rd grade students outperformed all districts for Math in the region and second highest in the larger WNY region and the Business First Top 15. Our district also exceeded the regional and state average in 10 out of the 12 subject/grade levels. These results, along with the data meetings that were recently conducted with the K-8 ELA and Math teams, give us a better understanding of what modifications are needed for our curriculum and how we can help bridge the gaps in these subject areas.
As a district, it is important to continually evaluate the current curriculum and to do that, each subject area undergoes a review cycle. The Curriculum Review Cycle is a repeating five-year phase plan for continuous quality improvement of our curriculum and instructional practices. It requires that we regularly evaluate what is taught and our pedagogical methods in order to keep up with advancements in these areas. This year our English, Foreign Language, and Business curricula are in the process of review. Presentations will be given at the Board of Education meetings in February and March.
With a New Year comes new beginnings and a fresh look into the future. As the second half of the school year begins, we as a district can evaluate what methods in our classrooms have worked, what we need to continue to work on and how much things have changed during the pandemic. The New Year is an opportunity to reflect and look back to where we were this time last year and focus on the positives and progress we have made as we move forward to a post-pandemic future.