Monthly Administrative Updates
October 2021 Administrative Update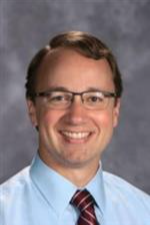 William Roberts
High School Principal
As the 2020-21 school year comes to an end, we are celebrating our seniors as well as reflecting on the unique successes of a pandemic influenced school year. Although this was not the traditional senior year for the Class of 2021, they have exceeded all expectations in their academics, athletics, and extracurricular activities and created long-lasting traditions that will continue beyond their graduation day.
During the month of June, East Aurora residents and visitors will once again be a part of celebrating our seniors. We are hoping that the entire community will recognize and support our senior class, starting with the Class of 2021 lawn signs decorating houses throughout the community. We are grateful to the Mercurio family for their coordination of the senior lawn signs. We would also like to thank the EAHS PTO, Mayor Pete Mercurio, and the East Aurora Public Works Department for coordinating the hanging of 160 Senior Banners up and down the iconic East Aurora Main Street. The banners will be on display through the middle of June, then taken down and presented to the graduates prior to graduation day. Our Seniors are also looking forward to a June 16th event at Parkdale Elementary. After a picnic lunch, Seniors will participate in a traditional elementary school field day and end the day wearing their caps and gowns and parading past the elementary students and their teachers, providing them practice for what will be a memorable graduation ceremony on Saturday, June 26th. East Aurora High School's 135th Commencement Ceremony will take place on the EAHS stadium field. The socially distant event will follow a traditional EAHS graduation ceremony supported with video projection screens and live-streamed on the EAHS YouTube station.
Throughout the school year, the East Aurora High School community, led by our seniors, has come together to provide opportunities for our students to engage in school and connect with peers in new and unique ways. The Spirit Club coordinated a variety of events that enriched the high school experience for students. Fall Fest and Winterfest were two shining examples of their work. The Fall Fest, highlighted by a trebuchet designed by EAHS technology teachers, launched pumpkins nearly one hundred yards across our athletic fields. Winterfest took students outside for sledding and other winter activities. Countless other opportunities, from movie nights to scavenger hunts, a senior class community service day, homeroom trivia contests, and the Student Government Ultimate Frisbee Tournament were just a few of the new events scheduled throughout the year that provided students with opportunities to forge positive connections in the midst of an otherwise challenging year. We expect many of these experiences to become new traditions that will be celebrated for years to come.
One final memento from the 2020-21 school year is the collection of new trees that are currently being planted on the high school campus. A total of eighteen trees from ten different species are finding their home at East Aurora High School thanks to the senior leadership in our Sustainability Club. The students learned a lot as they dug holes and discussed the soil and history of the site. The trees will stand for decades to come as a testament to the perseverance and strength of the East Aurora community.
Thank you to our students, teachers, staff, parents, Board of Education, Superintendent Russ, and the greater East Aurora community as our school year draws to a close. We are grateful for the successful team approach to support our students this year. I invite you to watch our Commencement Ceremony on June 26th as we celebrate a group of unforgettable Seniors!